"Pedagogy of the Oppressed is one of the foundational texts in the field of critical pedagogy, which attempts to help students question and challenge domination, and the beliefs and practices that dominate.
First published in Portuguese in 1968, Pedagogy of the Oppressed was translated and published in English in 1970. The methodology of the late Paulo Freire has helped to empower countless impoverished and illiterate people throughout the world." (
Via Zinn Education Project
)
(
Via Cultural Colonialism and Art Education: Eurocentric and Racist Roots Of Art Education
)
Unconscious Bias and Diversity Training
In order to teach art from a global perspective, faculty must be trained for this task, removing cultural biases. There are dozens of high profile companies like The EW Group, Diversity Edu, Executive Diversity Services Inc., PRISM that provide these trainings to workplaces and higher education.
"And yes, it is also true that there is bias at the level of society and culture, in any society and culture, which companies may not be able to change. But leaders must think harder about shaping their own organizational cultures, creating truly ethical, fair, and inclusive environments, and acting as real-life examples of the prosocial and moral values they want to promote in their own organizations." (
Via Fast Company
)
When our curriculum is built from a Eurocentric perspective, it is easy to miss how much of the contributions to every field has been made by artists and designers on every continent. By acknowledging this fact and committing to building it into every class, then we can finally start teaching a holistic arts education of humanity.
Instead of "teaching about racism," integrate and interrogate it.
Rather than making racism an add-on topic, professors can explore how racism has infiltrated and impacted their disciplines. As expert Valentina Iturbe-LaGrave says, "Exploring how [racism] is embedded in the curriculum, what constitutes the 'canon,' and who is in the room ensures the conversations traverse students' critical understanding of how race and privilege impact them in real time." (
Via On How to Integrate Anti-Racism Into Your Teaching
)
Our ask of committing each course to teach 25% is based in the 15 Percent Pledge, "Black people in the U.S. make up nearly 15% of the population...we are calling on major retailers to commit a minimum of 15% of their shelf to Black-owned businesses." (
Via 15 Percent Pledge
)
We know that teaching about biases should not be limited to 25% because a holistic education organically folds it all together, but while we are transitioning to an anti-racist campus, having this committment provides a transparent guide for every instructor.
Our world is complex and vast, so giving students at ArtCenter the best education requires them to know its history. Going into an industry where designers and artists must interrogate oppression while not giving them the tools to do so, is setting up our student body for failure.
And worse, it allows for the marginalized communities on our campus to be inundated during their education with racism, sexism, rape culture, homophobia, transphobia, xenophobia, ableism, etc… among so many other harmful stereotypes and biases. Many students aren't able to make it till graduation because of this culture of intolerance at ArtCenter. Students deserve an education that empowers them to be the best artists and designers they can be.
"No person in the United States shall, on the basis of sex, be excluded from participation in, be denied the benefits of, or be subjected to discrimination under any education program or activity receiving federal financial assistance."
ArtCenter Policy and Procedure (Revised - 10/01/2018)
(Via Title IX Student Policy and Procedures)
ArtCenter promotes their Title IX reporting as a solution to bigotry and sexual assault on campus. Sadly many people have gone through the process and have ended up with their perpetrators not being punished and the school saying the VICTIM can change their class schedule around to avoid the person who hurt them.
In reality, this penalizes the victim usually delaying graduation or dropping out.
Credit: Blackataccd IG
Our school needs a Zero Tolerance policy.
Provided below is one that is already legally approved:
"The University strictly prohibits all forms of unlawful harassment (including sexual harassment and sexual violence), discrimination or retaliation in any form. Anyone who violates this policy of zero tolerance is subject to appropriate disciplinary action, up to and including immediate termination or dismissal."
(Via Mount Saint Mary's Los Angeles Zero Tolerance Policy)
Many schools have been firing racist faculty and administrators. Reopen all title nine cases, give space to new reports, then fire the perpetrators. Do this within one term. After external auditing, fire the remaining racists, sexists, etc. Immediately start hiring faculty and administrators who are anti-racist, and put them through training.

Regardless of the amount of work this causes for ACCD administration, it should be done. The school can not continue if it is not safe for students. This will raise the level of quality for the institution.
credit: City Data
So why doesn't our student body reflect that?
(Via ArtCenter at a Glance)
Why doesn't our faculty demographics reflect that?
(Via ArtCenter at a Glance)
Why do our chairs look like this?
(Via People at ArtCenter)
But all our service staff look like this?
(On-Campus Photo)
Why is the largest population of Latinx and Black people on campus the lowest paid?
It's the same reason why the school isn't ADA Compliant.
Americans with Disabilities Act
Title III - Public Accommodations
"This title directs businesses to make "reasonable modifications" to their usual ways of doing things when serving people with disabilities. It also requires that they take steps necessary to communicate effectively with customers with vision, hearing, and speech disabilities."
This title sets the minimum standards for accessibility for alterations and new construction of facilities.
(Via National Network)
The same reason why student health isn't a priority.
Image credit: @artcenterexhibitions ig
And the same reason why trans, non-binary and gender nonconforming students' identities are ignored.
Nationally, 75% of transgender students who have felt unsafe at school because of their gender expression.
(Via GLSEN 2017 National School Climate Survey)
Our school prioritizes productivity over students.
Our school prioritizes profit over people.
Our school relies on prison labor, aka modern slavery, to feed its students. "Sodexo's involvement in the prison industry began in 1994, when the company bought a twenty percent stake of Corrections Corporation of America (CCA), now CoreCivic, one of the world's largest private prison companies. The two companies formed joint ventures to operate private prisons in Australia and the UK: Corrections Corporation of Australia Pty. Ltd. and U.K. Detention Services Limited." (
Via Investigate
)
Artcenter can never be truly diverse, equal, or inclusive until all of this harm is resolved. ArtCenter has the resources to change, has the ability to grow, so NOW is the time to put in the work.
ArtCenter is on stolen Tongva-Gabrieleño land.
Credit: Apple Maps
Credit: Sutimiv-Pa'alat
Pasadena was built through the genocidal theft of indigenous land and free slave labor. (via Pasadena Before the Roses: Race, Identity, and Land Use in Southern California, 1771–1890, by Yvette J. Saavedra)
ArtCenter does not acknowledge this fact, even going so far as to obscure it when trying to secure a permit for the Master Plan.
While land acknowledgments help educate, they don't change the material reality of Indigenous and Black communities in LA County.

Every student should be taught Pasadena and LA history of colonization and white supremacy. ArtCenter should pair with local tribes and Black cultural centers on projects that explore those hidden histories. Artcenter should pair with artists and designers from marginalized populations in designing curriculum, then being the ones to teach about their communities' art.

ArtCenter needs to use its budget to create more scholarships for Black and Indigenous students as reparations for the fact that their land holdings and wealth stems from Pasadena's racist history.

Considering our school has a reputation of top quality, it can afford a tuition reset that cuts what we pay each term in half.

The fact that ArtCenter student body's population that is most likely unable to afford steep tuition are brown and black communities, the high cost of our education is racist. It's exclusionary and keeps ArtCenter from being truly diverse.
ArtCenter Tuition and Fees has increased 39.8% for the last 10 years.
Credit: College Tuition Compare
ACSG Tuition Graphic
63% of our Tuition goes toward Education, specifically $39.6 M out of the $79.4 M pays for salaries.
Credit: ArtCenter Student Government Inside Page
Top Executive Salaries (via Non Profit Light

President, Lorne Buchman ~ $559,000
SVP CFO & CAO, Richard Haluschak ~ $294,000
SVP Development, Emily Laskin ~ $294,000
Environmental Design Chair, David Mocarski ~$207,000
Film Chair, Ross Lamanna ~$205,000

There needs to be more transparency in administrative and faculty pay and benefits.
91 colleges have implemented 95 tuition resets from 1987 to 2018, with extremely successful results.
(Via Savingforcollege)
Tuition Fall 2020 - Summer 2021
Undergraduate Tuition (per term): $22,888 ($752 increase)
Graduate Tuition (per term): $24,190 ($796 increase)
Our education continues to be too expensive, even with classes being offered online.
We need affordable tuition NOW.
Throughout this expansion we've had two recessions and tariffs skyrocketing the cost of construction.

The money raised sits doing nothing for years while students have no space to work, are homeless and sleep all over campus.
Credit:
@sleepcenter.ac
Student Dorms
In 2014 ArtCenter filed that they were in predevelopment constructing a new South Campus.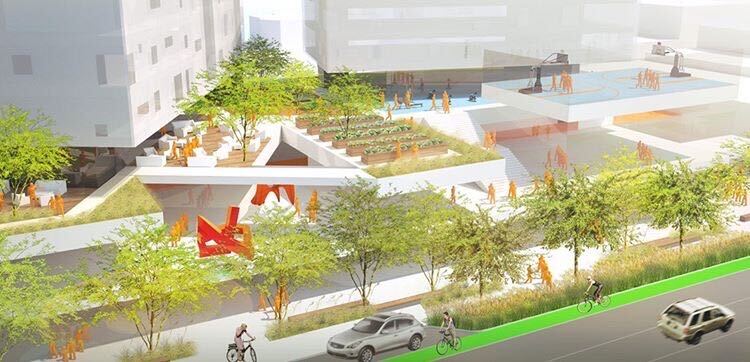 Image Credit: Michael Maltzan Architecture / Tina Chee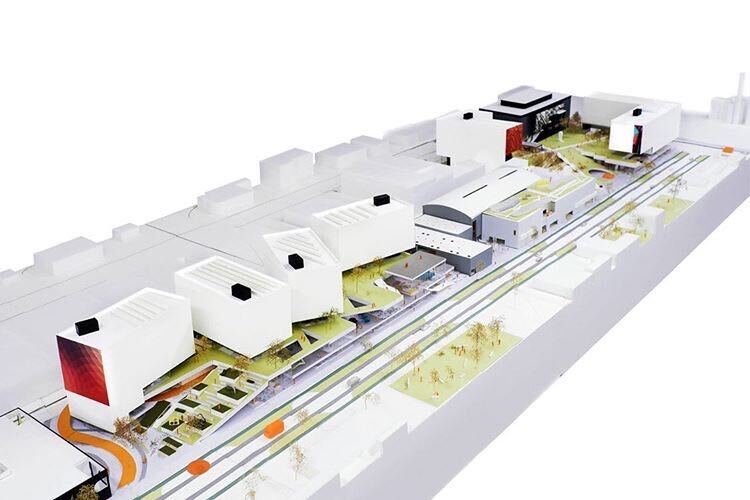 Image Credit: Michael Maltzan Architecture / Tina Chee
In 2018 Pasadena City Council unanimously approved construction. Six years into this development and nothing has been constructed.
We've been told to keep waiting for project spaces, club offices, and a student community center.


While we've been waiting, sadly students have gone homeless. Last year we occupied the bridge in front of the Administrations offices. The school implemented an economic relief team.

But the ERT has limited reach.

No study was ever made into what type of physical spaces students actually need.

While presenting to Pasadena City Council, President Lorne Buchman failed to present that multiple tribes have not signed off on the Environmental Impact Report and were concerned about the project. (via Final Environmental Impact Report ArtCenter College of Design Master Plan, April 2018)

Construction is projected to be finished by 2033.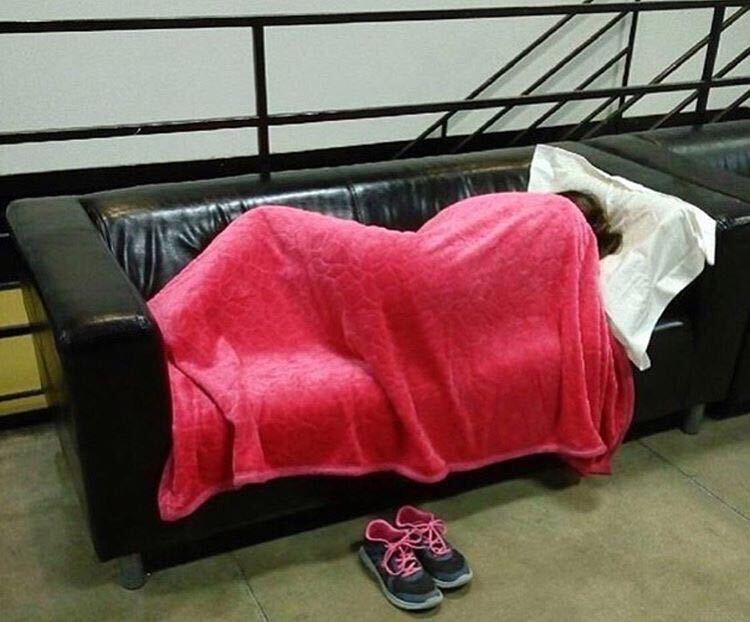 Credit:
@sleepcenter.ac
We need a transparent plan now with exact timeline detailing what will happen.
No more homeless students.
LEARN TO CREATE. INFLUENCE CHANGE

"Create Change 2.0 is the product of the ArtCenter community evolving and updating the initiatives of Create Change 1.0, the plan that guided the institution from 2011 to 2016. It is a strategic agenda designed to strengthen the College's path forward through the many lessons learned over the course of the last five years and with increased attention to the complexities of the current environment of higher education in the United States." (1)
Diversity — Focus on Recruitment, Awareness, Inclusion, Equity and Engagement
1.1.1 Attract a diverse, qualified prospective student pool from a variety of existing and new sources. Assure a nimble, responsive admissions process that supports talent and diversity. (CC1.0: 1.3.2; 1.3.2.2; 2.1.6; 2.2.2)
1.1.2 Build strategies and resources to retain all students to the completion of their degrees. (CC1.0: 2.2.7; 2.2.10)
1.1.3 Provide funding and support to increase affordability and access for a more diverse range of students from underrepresented populations. (CC1.0: 2.2.2; 2.2.8; 2.2.9; 2.2.12)
1.1.4 Provide students with international learning opportunities in order to develop universal competencies and cross-cultural adaptability. (CC1.0: 1 .3.1.4)
1.1.5 Deploy strategies and resources to attract, hire and retain a diverse faculty and staff. (CC1.0: 2.1.4; 2.1.5; 2.2.1; 2.2.5)
1.1.6 Provide additional resources to ensure student, faculty and staff participation and inclusion in all College activities and programs. (CC1.0: 2.1.6)
1.1.7 Ensure fair and equitable policies and practices inside and outside of the classroom regarding classroom conduct and diversity. (CC1.0: 2.16; 2.2.3; 2.2.4; 2.2.5)
1.2.5 Build new strategies for degree completion for all types of student profiles by exploring new models of matriculation (e.g. low residency, independent study based on work experience, online education). (CC1.0: 1.3.2.1)
1.2.6 Provide appropriate staffing structures to support all students.
Affordability — Experimentation for Greater Access
1.3.1 Experiment with and create new, more efficient and affordable curricular structures, such as 4/1 or 3/2 programs; competency-based learning; summer programs, "Jump In/Jump Out" and "Design your Own Programs"; portfolio-based and experience credits; online and real-time study; transdisciplinary activities and projects; waive/sub/transfer policies; peer-to-peer; and skill acquisition training. (CC1.0: 1.3.1.2; 1.4.2.3) 1.3.2 Pursue a variety of options to increase affordability including potential enrollment growth, budget reallocation or reductions, limited tuition increases, on-campus student housing, fundraising for scholarships, transportation alternatives for students, and increased operational efficiency. 1.3.3 Review the expected outcomes of the BS versus the BFA degree. Investigate further reductions of the number of units required for graduation in programs with unit requirements in excess of 120 by revising and compressing the curriculum;. Other considerations include: modular experiences; academic breaks to facilitate internships for credit and work experiences; financial health of students; and flexibility for student wellness and life balance. 1.3.4 Further evaluate and implement the College's transfer credit policies, which affect the total cost of tuition. (CC1.0: 1.3.2.3)
Alumni — Ongoing Support and Engagement
1.6.4 Create dynamic relationships between people within the ArtCenter family and deepen their commitment and personal ties to the College. Inspire alumni to engage in a life-long relationship with the College through programs of service and support. (CC1.0: 2.2.14)
1.6.5 Align alumni with the College through regular and varied communications about the College, the community and current trends in the fields of art and design.
Faculty Development — Faculty Support and Achievement
2.1.2 Diversify the ethnic, gender and experience profile of the faculty through recruitment, retention, fellowships, key appointments and special residencies. (CC1.0: 1.2.1, 2.2.1)
2.1.3 As part of the Faculty Compensation study, determine best practices towards fair compensation for all faculty, including further clarification of one- and three-year letters of appointment. Establish a timeline for implementation with consideration of shortand long-term budget planning. (CC1.0: 1.2.4)
Curriculum and Pedagogy — Diversification in What and How of Teaching Our expert
2.2.10 Fully implement opportunities across multiple departments for a 3/2 (4/1) undergraduate/ graduate program structure wherein students are able to combine their undergraduate and graduate degree studies in order to provide students an accelerated master's level pathway. (A prototype of this program has been designed for the new Graduate Graphic Design program). (CC1.0: 1.4.2.3)
2.2.14 Revise and clarify credit structures in both the BS and BFA degrees to ensure the fairness and efficiency towards timely completion, including: further credit hour reductions in departments with a unit requirement greater than 120; revised transfer credit policies to allow for easier acceptance of previous credits towards degree; internal parity of credits towards the process of changing majors; and customized learning programs that allow students to select degree-credit coursework from various departments. (CC1.0: 1.3.2.3)
Research and Partnerships —ArtCenter Intersects the World
2.3.5 Explore partnerships between graduate and undergraduate education including graduate teaching assistants, graduate research assistants and other research modeling.
2.3.6 Expand potential for international experience for all students, including growth of needed infrastructure. Focus on emerging creative hub cities worldwide, including: Mumbai, Mexico City, Tokyo, Singapore, Beijing, Shanghai, Edinburgh, Sydney, Barcelona and Istanbul, as well as maintain current alliances with London and Berlin. Pilot new programs appropriate to each location.
The Third Campus — Establishing a Robust Digital Infrastructure and Support Services
3.1.4 Continue migration to online transactional resources, services and digital assets for students, staff and faculty, in order to provide: further paper reduction; greater capability for 24/7 information sharing; more efficient work processes; multi-location integration; and better communication. (CC1.0: 3.4.6)
3.1.5 Increase and enhance ability for staff, faculty and students to more seamlessly conduct their routine business, such as online registration, room scheduling and other content and service-specific needs.
Facilities — Building new Learning Spaces, Makers Spaces and Community Spaces
3.2.4 Develop student housing that models a culture of sustainability.
3.2.5 Integrate learning, making and community into the development and design of student housing. (CC1.0: 3.4.2; 3.4.4; 3.5.1; 3.5.2; 3.6.3)
3.2.6 Develop an overall vision and program for community spaces that ensures safe, secure and comfortable places both indoors and outdoors. (CC1.0: 3.1.2; 3.2.5; 3.6.2)
3.2.7 Ensure that as we build physical and digital infrastructure that we foster competency among students through unprogrammed spaces, blocks of time, curricular flexibility, and peer-to-peer platforms. (CC1.0: 3.2.5; 3.6.1)
Exhibitions —Supporting New Exhibition Spaces and Practices
3.4.4 Build and curate a student gallery at South Campus in support of Admissions.
Multi-campus Experience — Aligning Schedule, Supporting Transportation Needs and Establishing an Affordable Residence Hall
3.6.1 Continue the development of student residences specifically designed to accommodate a live/work space for art and design production that support community-building and affordability goals. (CC1.0: 3.4.2; 3.4.4)
3.6.6 Develop and implement a Health and Safety Master Plan that provides a safe and healthful learning environment specifically aimed at student making and wellness across both campuses. In compliance with state and federal guidelines, this plan should include best practices for wellness and handling hazardous materials. (CC1.0: 3.6.2; 3.6.3)
9 years since Create Change 1.0 began and the little that HAS been implemented has failed to materially make our campus safer for marginalized students. This policy is also a massive compromise compared to what students actually need and deserve. We need a school ran by someone who cares enough about us to change things ASAP instead of letting sexual predators and racists roam campus for years harming students.

Since President Buchman is obviously unable to step up to the task, we DEMAND his resignation.