On December 1, 2018 from 7 - 10 PM at the Armory Center for the Arts 21 ArtCenter students and alumni contributed work to Represent. At least a hundred folks from the ArtCenter community and beyond joined us to celebrate.
Represent is an exhibit that showcased work by Art Center's creatives of color exploring the theme of representation: How do you depict yourself or your identity? How do you want to be seen? How do you shape the ways you're represented?
Art and design are visual and tactile practices often concerned with presenting our own interpretations of moments, people, places, and communities. In these fields, people of color are too often underrepresented, misrepresented, or rendered invisible in spite of our deep contributions to art, design, craft, and cultural production. Other times, the creative contributions made by people of color are tokenized in such a way that overshadows the work itself. Either way, we can't extract ourselves from our work: this exhibit aims to give space to expressions of representation that are self-determined and celebratory, critical and exploratory. This exhibit features creatives whose work examines what it looks like to genuinely, respectfully, and fully represent who they are and how they experience the joys and burdens of representing themselves or their membership in a community or collective identity.
Presented by the Antiracist Classroom and CHROMA, REPRESENT highlights the creative practices of Latinx, Asian, Black, and Indigenous artists and cultivates a space that prioritizes our experiences, representations of self, histories, and futures. REPRESENT manifests a space we urgently want to see in our studios, our classes, and the creative field more broadly. It is an action, an invitation to engage, and a celebration of what we have already collectively achieved.
Represent was organized by ArtCenter students and alumni: Sophia de Lara, Benin Marshall, Shivangi Singh, and Lauren Williams. The organizing team would like to thank the Armory Center of the Arts for hosting the exhibit and the following ArtCenter departments for financial support: Designmatters, the Center for Student Experience, and the Office of the Provost.
GALLERY
Event Photos
Photos by Shahin Ansari +
edited by Sade Ndya Young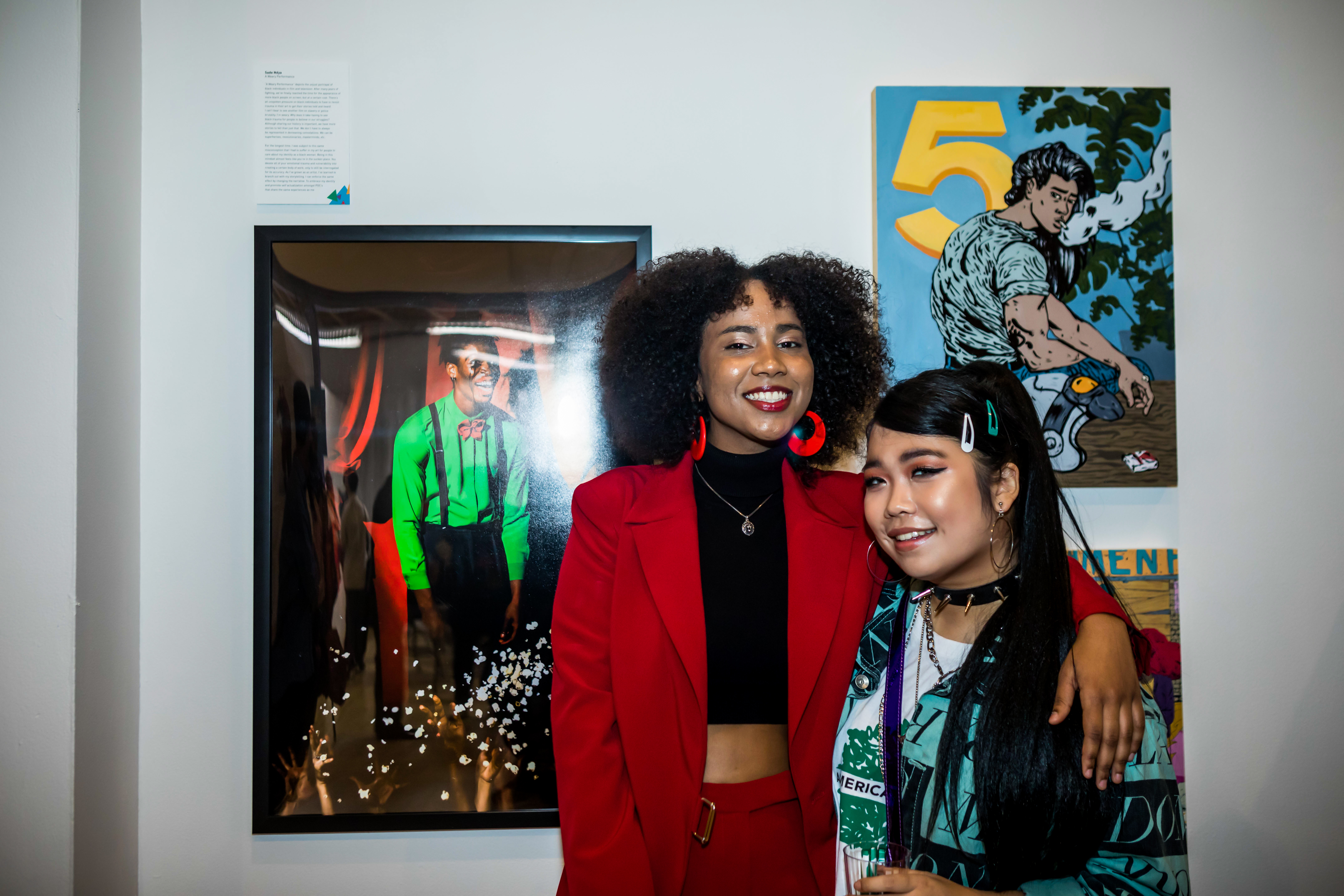 BIOS

Featured Creatives
Melinda Arredondo
Student, Photography and Imaging
Melinda Arredondo is a 28-year-old fashion and portrait photographer from Rancho Cucamonga, CA. She grew up in a very typical Mexican household where she was expected to speak Spanish in the home, go to church, and stay up till 2:00 AM with your parents at family parties. In a year, when she graduates from ArtCenter, she will be the first person in her family to graduate from college. Her parents have always given her the freedom to be who she is and to create the work she wants to. Unlike most of her cousins who were expected to become doctors or lawyers, her parents let her be who she wanted an her grandmother taught her to sew and create. Melinda bases some of her work on her heritage and her mother's family. She enjoys integrating her culture into her work to add a little bit of herself and her family's history.


Maribel Barcena Lopez
Student, Photography and Imaging
Maribel Barcena Lopez is a Mexican American photographer and creative. She was born and raised in Los Angeles,CA but has spent much of her life in Mexico, splitting time between Jalisco, Michoacán and Tijuana. The time she spent in Mexico was not only essential in remaining connected to her roots but also served as a source of creative influence and gave her unique perspectives on the worlds she comes from,which she is now exploring and translating through visual imagery.


Steven Butler
Alum, 2013, Film
Steven Butler is a multi-talented creative with an open mind, passion for storytelling and an aptitude for intersecting multiple art forms. He began his creative career as a dancer and choreographer with credits including Transformers 2, The Latin Grammy's, Weeds, Good Morning America and artists including Ludacris, Nick Carter, Aaron Carter, Paulina Rubio, Cheat Codes and Macy Gray. He received a Bachelor of Arts in film from ArtCenter College of Design, graduating with distinction. His directing credits include music videos for Precarious Records, Ultra Records, and Raid Records. He has also received recognition for his writing, directing, and producing from Slamdance, The Addy Awards, Zooppa, Los Angeles Dance Film Festival, Standard Vision and the Academy of Television & Sciences Blue Ribbon Panel. In addition to his creative work, Steven is 2018 TED Speaker. By intersecting his creative passions and vast practical experience in varying artistic fields, Steven aims to use art as a means of storytelling that both engages and inspires viewers and participants while simultaneously shaping a progressive and culturally relevant narrative.


Brett Childs
Student, Photography and Imaging
Brett Childs is a 30-year-old artist working primarily in film and photography. Brett is biracial: His mother is white and his father is Black. Much of his work concerns itself with the relationship between memory, identity, and the interplay between the internal world of the individual and the external world.


Sebastian Guerra
Student, Illustration
Sebastian Guerra-Martinez was born and raised in Mexico to a Mexican mother and an Indigenous Mixtec father. He was raised to honor his Indigenous and Mexican heritage and culture, including through his artwork.


Victoria Imo
Student, Entertainment Design
Victoria Imo is an entertainment designer who loves concept art, dancing, and definitely hates racism and police brutality. Victoria is the only African American girl in her term's cohort and, before enrolling at ArtCenter, thought she might be the only one in her entire major. While that wasn't the case, being the only African American girl in her term's cohort does feel isolating.


Zoe Jackson
Student, Photography and Imaging
Zoe Jackson is a photographer who shoots in the moment. Spontaneity is a critical element of Zoe's philosophy on life, her approach to photography, and, as a result, the feelings her photography conveys. Because of the manner in which she explores the medium, Zoe never finds a potential subject too mundane to be beautiful. It takes more restraint to shoot freely without over-processing an image. While pre-conceiving a photograph has its place, for her, spontaneity has always been the focus.


Tevy Khou
Alum, 2014, Illustration
Tevy Khou makes comic books, painting, and zines. Her work is tied to her identity as a queer Chinese-Cambodian person. Tevy found that in each of those spaces, some element of her identity--racial or sexual--faced erasure. Tevy's desire to work in an area where LGBTQIA issues and race were at the forefront of her daily responsibilities and mission led her to her current job as Creative Content Producer at Pride Media, which owns Advocate, Out, Pride, and HIVPlus magazines and websites.


Kristie Kim
Student, Illustration
Kristie Kim is a fantasy illustrator and owner of Kristie Kim Design. Her illustrations capture fantastic lands and characters that are developed into a series of animations. Kristie's design work represents how she lives as a spiritual artist: Expressing emotions, feelings, experiences, and struggles that she faced in childhood. She grew up in Seattle, Washington, graduated honors with a Bachelor of Arts in Design Studies with a minor in Animation from North Carolina State University, and takes motion design courses at ArtCenter College of Design in California.


Benin Marshall
Student, Graphic Design
Benin Marshall is a Graphic Designer from East Los Angeles. Most of Benin's work deals with Black identity, race, representation, spirituality, love and humanity. Through design, Benin brings folks closer together highlighting stories and experiences so people can all begin to realize how much we may or may not have in common. Either way you still get to see what makes people great and share in the lineage.


Xiucoatl Mejia
Student, Fine Art
Xiucoatl Mejia is a Claremont High School alumni and has been apart of Capulli Tonatierra Nahuacali all of his life. He has also apprenticed for eight years underneath his father, mentor, and indigenous tattoo pioneer, Antonio Mejia. Xiucoatl's work reflects his perspective in the punk, Indigenous, and tattoo communities of his upbringing; as well as the stories and lessons he has been taught along the way.


Kizzy Memani
Student, Graduate Graphic Design
Kizzy Memani is a visual communicator and graphic designer from Johannesburg, currently based in California. He is completing his postgraduate studies in Graphic Design at ArtCenter College of Design and has a Bachelor's degree in Architectural Studies which he completed at The University of Cape Town. He is an active freelancer in the graphic design space and enjoys collaborating with creators of colour both in South Africa and abroad. Through his studies, Kizzy hopes to further focus on graphic design that operates in service of marginalized communities and establish a creative network through which he might advance a dialogue around issues of marginalization.


Sade Ndya
Student, Film
Sade Ndya is a visual artist based in Pasadena, who specializes mainly in cinematography and photography. Thinking the world was hers as soon as she owned her first DSLR, she began making films about people with stories to tell. All of these moments collectively becoming a part of her and who she is, shaping her knowledge and awareness of the world. She wants to promote this sense of self-actualization with her work. To help people become proud of who they are, where they came from, and what they believe in.


Camille Papa
Student, Fine Art
Camille Papa is a first generation Filipino-American, born and raised in the city of Los Angeles, specifically in Historic Filipinotown. Camille's current artistic practice involves creating series of soft sculptures and installations portraying her dislocation as a Filipino-American by appropriating and utilizing articles of documents, photos, and imagery that contain her family's story of immigration to the U.S.


Johnny Pérez
Student, Fine Art
As an artist, student, and human, Johnny is driven by a desire to engage and to forge connections. What began as a raw desire to affirm his own being blossomed into a photography practice that had him working with the Red Cross documenting the impact of Hurricane Katrina, which eventually led him to New York, where he found work as a photojournalist. Johnny's photography explores personal struggles with social visibility and validation. His portraiture is a social practice, one that conveys images or ideas about how power structures society, and neglects communities. Johnny seeks to use his work to not only connect individuals, but entire communities, with humility, empathy, and inclusiveness.


Christian Perez-Morin
Alum, 2012, Graphic Design
Christian Perez-Morin is based in Los Angeles and works in painting, digital media, artist books, and performance. He received an MFA from Cranbrook Academy of Art and a BFA from ArtCenter College of Design. Previously, Christian worked as a touring musician and artist assistant for Alex Israel. He is currently teaching at ArtCenter. In 2017, he was published in New American Paintings.


Roberto Rodriguez
Student, Graphic Design
Roberto G. Rodriguez is an immigrant who was born and raised in Guadalupe Nuevo Leon, México. Roberto migrated from Mexico at the age of twelve and has not seen his family since. Along the way, he has encountered many difficulties in this country and has also been afforded opportunities.


Kayla Salisbury
Alum, 2017, Illustration
Kayla Salisbury is situated at the intersections between fine art, animation, commentary, illustrated journalism, and advocacy. As an Illustration student at ArtCenter, Kayla often had to fight to defend her voice, story, thoughts, and power in every assignment, piece and basic interaction she had on campus. Through those experiences, she found her strength. Kayla sees power in the minds, voices, battles, and mere existence of Black people; she wears her Blackness as a badge of honor; and she makes Blackness the subjects of much of her work. Her work explores and amplifies Black people's voices, their trials, struggles, triumphs and victories. In this work, Kayla has found her purpose: She dreams of creating inner city institutes, studios and opportunities for people of color to learn and thrive creatively, and creating visuals to illustrate the stories of Black folks.


Daniel Sevillano
Student, Fine Art
As a kid growing up in Los Angeles, David was a timid person due to insecurities derived from a diverse background and dealing with a confused sexual identity. His parents were both Salvadoran immigrants with laborious jobs: His mom was a housekeeper and his Dad was a gardener. While growing up, after school, Daniel would rush home to watch cartoons; without his parents to police after-school activities, he spent most of his time watching cartoons. For Daniel cartoons were a form of artistic freedom that granted the freedom and ability to create any kind of desired reality. Having always envied this freedom in cartoons, as an artist, his goal has been to investigate this freedom of structure through the use of various mediums that emulate whimsical characters and environments. These elements often appear abstracted and monstrous, originating from a place of intuition and subconsciousness. Daniel identifies with the obscurities that arise in his work because his own identity is also obscured: Consisting of an amalgamation of different cultures that may or may not have been intended to meld together.


Luis Zepeda
Alum, 2018, Fine Art
Luis Angel Zepeda is a California based artist from South Florida whose practice revolves around performance and domestic arts such as sewing, cooking, and ceramics. As a first generation Mexican- and Nicaraguan-American, their practice is influenced by our current political climate of white supremacy and heteropatriarchy, exploring and dismantling the relationship between the oppressors and oppressed. Luis' work destabilizes or questions western ideals of whiteness, straightness, and the aesthetic of beauty while maintaining a harmonious connection with our mother earth.


Marcus Zúñiga
Student, Graduate Art
Marcus Zúñiga is an artist interested in experiential works of art which offer a re-learning of the cosmos informed by blended cultural conceptions of the universe. To present such environments, his work combines sculpture and installation with digital video and electronics. For the past decade, Zúniga has experimented with digital media as forms of expression to examine humanity's relationship with ephemeral materials and content. His projects often fuse themes and concepts drawn from astronomy, curanderismo, Aztec mythology, and history.Born in Silver City, New Mexico, Zúñiga studied art theory and practices at the University of New Mexico (BFA) and Art Center College of Design (MFA) in Pasadena, California. Notable recent projects include "Ya Veo", a solo exhibition at No Land Art Space in 2017, and video installation, "Space", exhibited for Currents New Media Festival in 2016. He currently lives and works in Los Angeles.